Phasing out
Domestic

EU Flights

With air travel accounting for 2.5% of global CO2
emissions, a number of EU countries are phasing-out
certain domestic flight routes in favour of greener rail alternatives.
Here's a three-stage model of what that could look like in reality:

Stage One
Active legislation or ongoing conversations about phasing-out specified flight routes that can be completed by train in less than 2.5 hours.

Implementing this rule across France, Spain, Austria and The Netherlands means…
2.4 million extra passengers
would take the train every year.
320,000 tonnes
worth of carbon emissions would be saved each year.
320,000 trees
would absorb this amount of carbon over an entire century.
So, Train Over Plane zones present exciting opportunities for governments to decarbonise the transport sector and a handful of EU countries are already taking steps in the right direction.
But what about Great Britain?
Research from SilverRail shows that GB is seriously lagging behind Europe in its approach to rail and modal shift.
GB's ambition should be three-fold:
To have no domestic air destinations unless there are physical geographic limitations (e.g. sea crossings).


To have a domestic rail network that is fast and affordable, and managed to distinctly cater for the long-distance leisure and business travel markets, separate from the regional and short-distance commuter markets.


To improve GB rail connectivity with mainland Europe, including a plan to incorporate long-distance rail destinations such as Manchester, Leeds, Newcastle, Glasgow, and Edinburgh.


The good news is that GB is already proving that domestic rail works for certain routes.
After launching in October 2021, the Lumo service which travels between London Kings Cross and Edinburgh Waverley in just 4h20m has shifted the ratio of rail:air passengers on this route from 35:65 to 50:50.
True Time of Travel
Beyond the environmental benefits of GB rail, when we consider the true time of travel (i.e. travelling to the station/airport, waiting for your train/flight, disembarking), rail is on a par with air for the four most popular domestic GB flight routes.
Phasing out these four routes for rail alternatives would save an estimated 488,000 tonnes of CO2e every year.
See SilverRail's calculations here.
We used the central Post Office in each city as the start and end point to calculate the travel time by public transport to the corresponding train stations and airports.
Turning Talk into Action
While these small steps forward are promising, the reality of phasing-out certain flight routes across the UK and the rest of Europe to make significant CO2 savings is a complex challenge that requires careful planning.
Specifically, the rail industry must overcome three key obstacles:
1
Governments have a vested interest in flag bearing airlines and maintaining connectivity with neighbouring countries. Despite the environmental benefits of rail, infrastructural and technological advances such as improving EU-wide track connectivity and developing cross-border digital ticketing solutions are necessary to make rail both an economically and politically attractive proposition.
2
Despite the pressing need for people to take action against climate change, passenger attitudes continue to favour cost, speed and effort over carbon efficiency. Therefore, improving the end-to-end customer experience will be vital to encourage a modal shift towards trains.
3
Policies that deter competition and market opening slow the uptake of rail. With the EU aiming to double the number of people taking the train over the next ten years, increased competition through open markets will help to reduce fair prices, improve passenger experiences, and eliminate inefficiencies. For example, between 2012 and 2019, Italy opened its rail market to two different operators and saw the average fair price drop by 40% and the number of train passengers increase by 108%.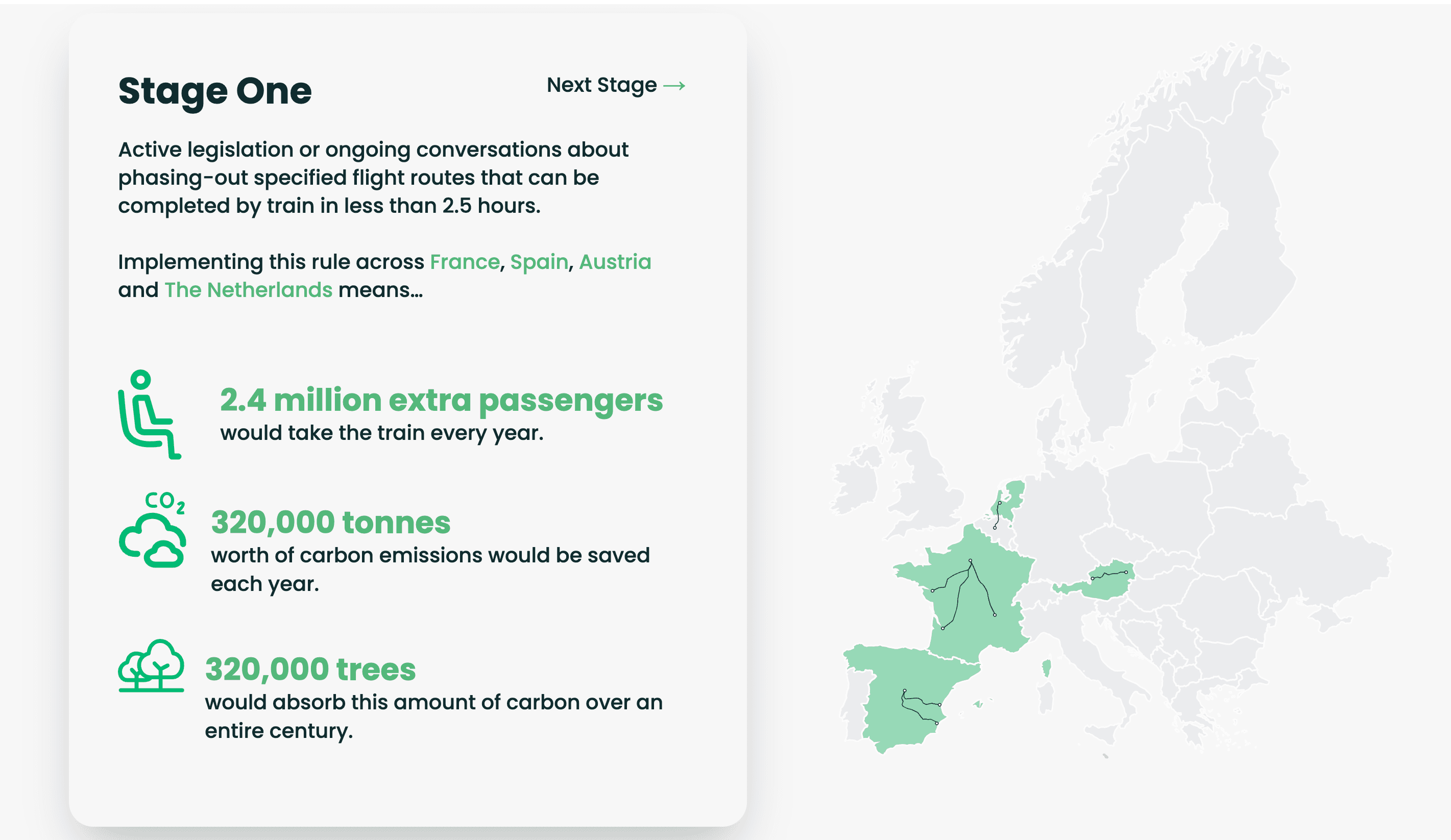 Share With a Friend
Add the Train Over Plane Interactive Map to Your Website
Need to sell rail easily?
At SilverRail, we're on a mission to make rail easy for travellers, carriers and agencies.
We develop technology to help rail operators and travel agencies transform how they serve customers and run their business.
Add your details below to learn more about our green rail solutions and visions for the future of travel